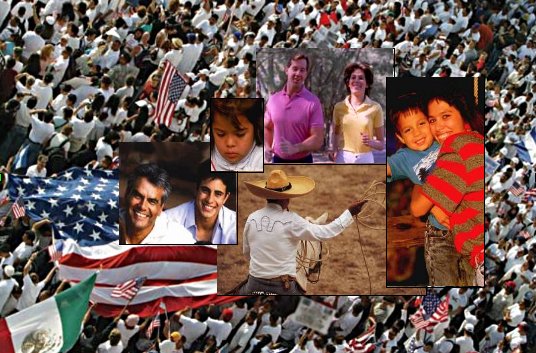 The U.S. Census reports that the number of American Indians or Alaska natives represents 1.5% of the total population of the United States. The other 98.5% of the American people must, by definition, be composed of immigrants or descendants of immigrants. In a country where almost everyone comes from somewhere else, why are we so insistent on restricting immigration? Who decided that the people already here "legally" are okay to stay, but anyone else does not belong? Unfortunately, most of the resistance is directed towards Latino immigration because we are the newer immigrant group; yet, if you analyze this a bit, Latinos are perhaps more entitled to this land. Please hold on the casting of stones for a minute or two.
Most of the new immigrants coming to our country are Latinos from Mexico and Central America; and most of them end up settling in the Southwest. If you take a good look at the typical Mexican or Central American immigrant you cannot help but notice that they have dark skin, dark hair, and other features that are consistent with the characteristics of the American natives. Many are, in fact, direct descendants of two great native Indian civilizations: the Aztecs and the Mayas. In addition, most of what is now the Southwest was annexed to the U.S. in the 1840s under the so called Manifest Destiny- a mistaken and now outdated belief in which the U.S. was said to be "divinely ordained" to expand its territory by taking over land. Interestingly, most of the land that was annexed under Manifest Destiny was already inhabited by the people we now call Mexicans. Why are we so perturbed today in seeing Mexicans crossing over a border that we imposed on them to reach a land that was originally theirs?
I know, I know, I'm simplifying quite a bit; but I'm just trying to make a point. In reality, the conquest of the West was much more convoluted and one can argue that we were defending Mexicans against other oppressive conquerors like Spain and France. It is also a known fact that Mexicans were on both sides of the conflict. The Battle of the Alamo, for example, was fought by Mexicans on both sides… but I digress. What I'm trying to say here is that if we study the reasons behind the strong feelings against illegal immigration with our analytical side of the brain we may conclude that the only reason why anyone in the U.S. would be opposed to immigration is because it does not make economic sense. However, many analysts have concluded that illegal immigration does not pose a negative effect on the U.S. economy.
The most respected recent studies show that most Americans would notice little difference in their paychecks if illegal immigrants suddenly disappeared from the United States. That's because most Americans don't directly compete with illegal immigrants for jobs. … Illegal immigrants seem to have very little impact on unemployment rates. Undocumented workers certainly do take jobs that would otherwise go to legal workers. But undocumented workers also create demand that leads to new jobs. They buy food and cars and cell phones, they get haircuts and go to restaurants. On average, there is close to no net impact on the unemployment rate. … There are places in the United States where illegal immigration has big effects (both positive and negative). But economists generally believe that when averaged over the whole economy, the effect is a small net positive. Harvard's George Borjas says the average American's wealth is increased by less than 1 percent because of illegal immigration. (Excerpts from Q&A: Illegal Immigrants and the U.S. Economy by Adam Davidson – NPR / http://www.npr.org/templates/story/story.php?storyId=5312900)
I propose that the negative feelings against illegal immigration have little to do with what can be surmised using our analytical brain. My contention is that these strong opinions against illegal immigration are being fueled by an emotional response to the way Latino immigration is affecting the American culture. People have difficulty coping with change and it is always hard to simply accept unsolicited change. The Latino culture has grown very rapidly and many Americans feel that their own way of life is being threatened by what foreigners are imposing. And, as I mentioned on my prior post, immigrants are no longer melting into one amalgamated pot. Ignorance regarding the Hispanic culture also results in fear, prejudice, and discrimination.
So, if you are Hispanic and people say to you "why don't you go back to where you came from?…," remember that they may not be rejecting you as much as they are trying to protect themselves; but then again, you may have to answer as Paul Rodriguez did in one of his stand-up comedy skits- Do you mean El Paso?