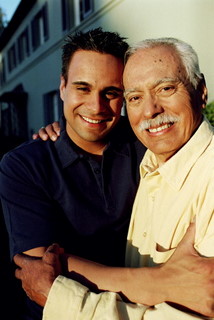 There is something peculiar about Latino interactions. Our communication goes much further than what is simply verbalized by the spoken words. We prefer to connect at an emotional, or at what I prefer to call a spiritual level. In my work interviewing Latinos I have witnessed this peculiarity in a consistent basis. Latinos generally feel more comfortable dealing with people when there is an established emotional bond among them. Yes, I know, almost everyone does; but Latinos are different in that they seek this emotional connection in almost every daily interaction. The connection with the person is almost more crucial that the verbal communication itself.
Perhaps my point is best described through examples. Have you ever been to a Latino supermarket or neighborhood store? A large supermarket chain in the northeast hired me once to understand why Latinos shop at what they considered to be low quality stores. "We do not get it," my client said; "we are loosing customers to a store that is not very clean, is totally disorganized, carries very little variety of merchandise, and is more expensive than ours on almost everything!" I visited the Latino store in question and interviewed many of its customer. Their loyalty to the store had little to do with the merchandise they carried or the price point of the products offered; they shopped there because they felt at ease interacting with the employees. Here is a typical customer comment.
"I like coming here because I can talk to the butcher about his family; and the cashier knows who I am. The employees care about me and I care about them. In other places they try to rush you through the check out and do not care to chit-chat. If I am dealing with people, I like to feel like I know them."
On another project a large insurance company wanted to understand the importance of having Latino sales representatives. They were of the opinion that the most important aspect in selling their services were the details of the plan and their pricing structure. They had translated their brochure into Spanish and were disappointed in the Hispanic receptivity. In talking to their customers and agents over several focus group interviews I, once again, came across the importance of connecting at an emotional level.
"I do not care to read the details of the plan or for the salesperson to give me a dissertation about the benefits. I prefer to deal with a Latino agent because they are more likely to understand what I want. My current agent knows me and my family well and he cares to ask how we are doing. I trust him personally, so I trust that what he recommends is good for me. A friend at work once convinced me to meet with an agent who had a very structured sales presentation; I did not trust him at all."
A good friend of mine who is not Latino once told me the story of how his company, a liquor company, went about securing a merger with a Mexican brandy manufacturer. A team from the American company was sent to Mexico to finalize the details of the deal with the owner of the Mexican company. Their task was to convince the Mexican owner of the viability of the deal. They were prepared with all their financial backup, analytical charts, reports, and their laptop computers. They were picked up at the airport by an employee of the Mexican company who took them, to their surprise, to the private residence of the company owner. The were greeted there by the owner, a few employees, and the owner's family. They ate, drank and shared stories with the Mexican family until someone from the American team asked when they were scheduled to discuss business. At that point the owner of the Mexican company said, "I just needed to know you better, they deal is sealed. You can work out the details with my people in the morning."
All of these examples point out the importance that Latinos place on communicating using something that goes beyond words and facts. In Latino interactions we pay a lot of attention to how we feel about the person we are communicating with and rely heavily on visual, tactual, and other non-verbal cues. Touching, kissing, hugging, storytelling, tangents, and verbalizing feelings are all important components in Latino interactions. Through our unstructured style of telling stories and going on tangents we get to learn about each other. We seem to unconsciously monitor how the other person reacts and pay close attention to how we feel about those reactions. We use exaggerated non-verbal and verbal expressions to communicate feelings because we know how crucial it is to connect at the emotional level. I find that Hispanics do this even if they are not consciously aware of doing it.
In researching Latinos one has to be keenly aware of how Latinos interact and how they prefer to communicate. Not surprisingly, qualitative research works very well with Latinos because it lends itself to our peculiar communication style. Online research, however, is often problematic- not necessarily because Latinos are not online; but rather because the methodology currently relies on very structured text questionnaires and ignores the other important communication components. In a future posting I'll touch on how Latinos are bringing their unique communication style to the online world and how it is indeed possible to build online spiritual interactions.