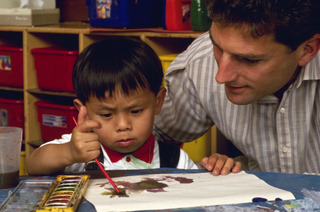 All Latino children have a right to be educated. It is the law. Many Americans have argued otherwise because they feel that the children of undocumented [illegal] immigrants should not have the same rights as the children of legal residents and citizens. This line of thinking, however, does not match what our society dictates. If the children of undocumented Latino immigrants were born in the U.S., they are citizens by birth according to the U.S. constitution and entitled to the same educational opportunities given to any other U.S. citizen. If they were born outside of the U.S., they are also entitled to the same education rights according to the U.S. Supreme Court. [In Payler v. Doe it was determined that children of immigrants cannot bear the responsibility for their parents decision to come to the U.S. because they had no control over that decision.] Let us then agree that, according to our social system, all Hispanic children have a right to be educated- regardless of their immigration status. I'll take that one step further and say that it is not only a matter of legality, it is a matter of necessity. Latino children are an increasingly large percentage of the U.S. children population and their educational attainment will undoubtedly affect the future of our country. I hope you will agree that it is important to pay attention to Latino education; now the question is, are we succeeding in educating Latino children? Many experts feel that we are failing miserably.
Latinos are not at fault. A combination of factors place Latino children are a significant disadvantage compared to other ethnic groups when it comes to education.
The statistics show that Hispanic adults have very low levels of education compared to other ethnic groups. According to the U.S. Census Bureau, 60% of Hispanics age 25+ were high school graduates in 2004, compared to 89% of non-Hispanic Whites. The parents' lack of education places the Latino children at a disadvantage. The U.S. Department of education says that the parent's level of education directly affects their children's academic performance.
Hispanics are poor. According to the U.S. census, the poverty rate of non-Hispanic White children in 2005 was 14%. In contrast, the figure was twice as high for Latino kids- 28%. Poverty means that Latinos have limited resources. What happens if a child cannot see the board in class but does not have a way to obtain eyeglasses? How does coming to school hungry affect their education? How about not having access to healthcare and coming to school with ear infections that go untreated? From lack of prenatal care to growing up in a home without educational toys and books; poverty greatly affects the children's academic performance.
While Hispanics care very much about giving their children the opportunity to succeed, most new immigrants lack a very basic knowledge of what it takes to become successful. I grew up in a household where I was expected to go to college and was constantly reminded that succeeding in life was a very attainable goal. I had good role models. My father grew up poor in a small town in Cuba but managed against all odds to study at the University of Havana and to start his own business when he was still in college. Most Latino children are not that fortunate. Many Hispanic immigrants struggle to make ends meet and do not understand how the American system works or how to guide their children to succeed.
Latino children also lack role models in their community. They often live in poor neighborhoods that do not offer the opportunity to relate to successful individuals that can encourage and support their educational achievement. Even sports coaches and other leaders that work with Latino children often lack the ability to guide them appropriately.
Hispanic parents do not understand the importance of parental involvement. They do not know that in this country everyone has the ability to get involved and even battle the public education system. My daughter, who is turning four next month, has speech delays. My wife and I had her tested at an early age and she was receiving publicly funded speech therapy since she was two years old. When she turned three we enrolled her in the public school preschool for special needs. This year we noticed that she was not progressing adequately with the speech teacher that was giving her therapy twice a week. My wife argued about her lack of progress and backed everything up with copies of all communication with the teacher. After meeting with the school principal and the case manager we succeeded in getting her assigned to the best speech therapist in the building. Latino parents do not know that they have the ability and the right to advocate for their children that strongly. They often see the school as a distant and powerful institution that "knows" what is best for their children. They are also intimidated by their own lack of education and many who are undocumented do not feel they have a right to get involved.
The lack of Hispanic parental involvement is evident in many public schools. Teachers often complain about not being able to communicate with Latino parents and about their lack of participation in school activities, not providing student homework support, and not attending parent-teacher conferences. Parent associations like the PTA also have a hard time recruiting Latino volunteers. The problem is that many Hispanics lack very basic information regarding how the American public schools work. They do not think that it is right to participate because by doing so they feel they would be perceived as going against the school system. I am often told by Hispanics that I interview that they feel inadequate questioning the school on matters regarding education and believe that the school would think negatively of them (and their children) if they do so.
Latinos often live in neighborhoods that are dangerous. Safety concerns results in Latino children not participating in extracurricular activities that would necessitate coming home late from school. Drugs and gangs create negative social pressures that drive underachievement. It is a documented fact that children who succeed in school often hang out with other children who are also high achievers. Latinos do not have the opportunity to relate to high achievers in their poor neighborhoods.
Sending children to preschool is not the norm in the Latino community; yet many experts have argued that a preschool education is crucial in a child's academic success. This is especially true if at this early age the children do not have good educational opportunities in their home environment.
Hispanic immigrants tend to be very hard workers. They often work hard with the hope of being able to provide a better future for their children. Unfortunately, Latinos often work long hours or at more than one job. Many mothers are single mothers who cannot afford not to work outside of the home. The children find themselves at a disadvantage because they do not have the ideal level of parental support.
There is a high correlation between student school performance and their participation in extra-curricular activities. Unfortunately, Latinos students tend not to participate in extracurricular activities because of safety concerns (as mentioned earlier), lack of transportation, and lack of parental support. Those who try to join find that most clubs and sport activities are made up mostly of non-Hispanic Whites and feel out of place being there.
This is by no means a comprehensive list of Latino educational disadvantages. There are many other issues that affect Latino education. If you are interested in this important subject I highly recommend the book The Latino Education Crisis, by Patricia Gándara and Frances Contreras. It is an extremely well written and researched call for action on what they identify as a national crisis. I would like to close this post by quoting a paragraph from this book.
As a group, Latino students today perform academically at levels that will consign them to live as members of a permanent underclass in American society. Moreover, their situation is projected to worsen over time. But as alarming as this is for Latinos, it is equally so for the U.S. population as a whole; neither the economy nor the social fabric can afford to relegate so many young people to the margins of society.